At Martin's Custom Tidesides, we make it easy to enhance and protect your property by offering a complete spectrum of superior barge, dock and concrete services.
Call:
315-573-3288
Whether you're looking to protect your boat, your home or your commercial property, Martin's Custom Tidesides brings decades of proven expertise and among the most diverse selections of services under one roof. Learn more about each by clicking any of the thumbnails below.
Docks
We offer a full range of permanent and removable dock options, as well as custom designs, warrantied composite decks, accessories and much more
Lifts
Martin's can build or install the perfect lift to complement your boathouse or freestanding dock, with electric, hydraulic, manual or solar power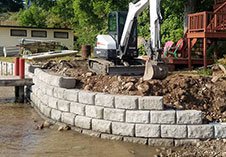 Seawalls
As one NY's most renown builders of custom seawalls and embankments, there's no limit to the ways in which we can help safeguard your property

Boathouses
Whether you're building from scratch, upgrading your lift or seeking a completely customized solution, we can design, build or equip your boathouse
Read More
Martin's Custom Tidesides is an authorized ShoreStation® dealer, a name synonymous with industry leading design, performance and durability. We're proud to offer their complete catalog of superior-grade boat lifts, docks and canopy covers.
An Unwavering Commitment to
Barge, Concrete & Dock Services
The needs of sea-faring property owners and businesses are as extensive as they are evolving, and a process which typically involves a multitude of industry specialists. At Martin's Custom Tidesides we've been working hard over the years to simplify the process, while constantly expanding the options offered to those we serve. Whether you're considering a new lift for your boathouse, interested in seawall construction or custom concrete, or ready to construct a truly one-of-a-kind dock, we offer these and a host of additional barge services; each one designed to help you protect, enhance and beautify your property.